Imagine that you're at a party. The music is bumpin, you've got a nice iced tea in your hand. Suddenly, some complete jerk knocks you off your feet and straight into a piano (this is a really nice party). You break your teeth out of your head. The whole room is spinning. I reach out and offer you my hand. I make you promises. "I'm hosting this party… It's going to be ok. I'll take care of you" I tell you.
I point you towards the emergency dental office and offer to pay the bill. I tell you that you're going to be taken care of. You trust me. But there's something you don't know. Deep down, I'm resentful of you for getting hurt at my party. I'm tired of hearing you complain about your teeth getting knocked out. I offer to give you $500 for your teeth.
Why are you mad? I understand that you can't replace your teeth for $500. I'm really not interested in hearing about how it's going to cost you $4500 for implants. You don't need implants. Just get a bridge. It will look and work close enough. Sure you have to take it out to eat and you're going to have to put a lot more maintenance into it over the long run but sometime in the next 60 years your teeth might have fallen out anyway, so what do you really want from me anyway?
Jacked up teeth due to no fault of your own? We've made excuses not to make it right.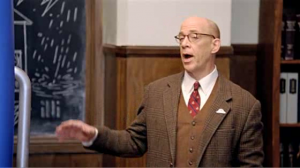 My name is Farmers, and I'm a prick. You should meet my buddy, Allstate.